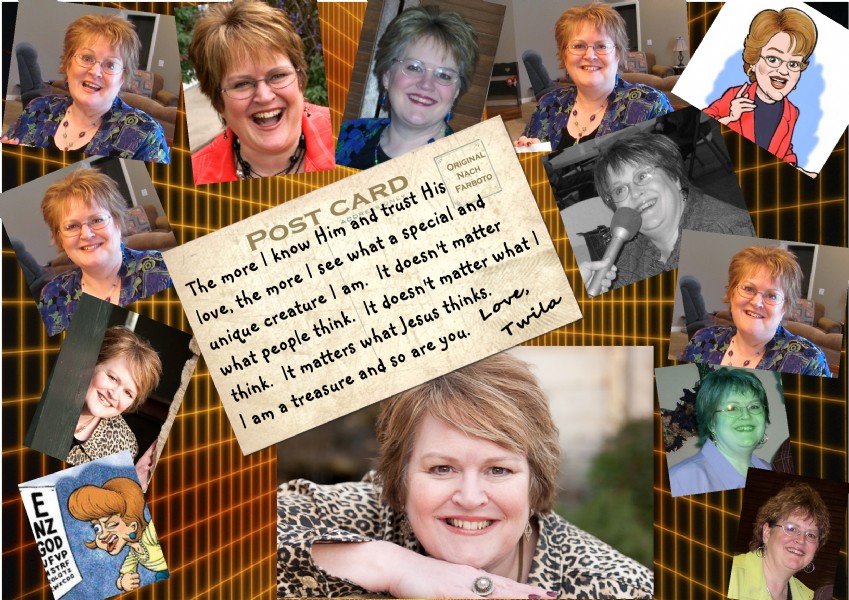 To some I'm known as Twila Belk, but to others I'm known as the

Gotta Tell Somebody Gal

. I love to talk, especially about my Lord. Whether I'm speaking, writing, teaching, or doing radio, my desire is to offer hope and encouragement for people to get their eyes fixed on Almighty God.
I'm a Christian communicator. I love to laugh and to encourage laughter. But even more than that, I love to help people discover who God is and how big God is and to prove that He can be trusted. I've got lots and lots of proof of God's faithfulness and goodness, and I just gotta tell somebody!
The Gotta Tell Somebody Gal's mission is to do whatever she can to make God famous. That includes being a champion and promoter for others who have a message of hope and encouragement, one that points people to God. I'm a cheerleader and coach for other writers and speakers. I directed the Quad-Cities Christian Writers Conference for eight years, and I enjoy teaching at writers conferences across the nation.
I'm delighted to have the opportunity of working with veteran author
Cecil (Cec) Murphey
as his manager, assistant, scheduler, promoter, PR person, events coordinator, and biggest fan. I try hard to keep him in line and to make him look good. Cec is a NY Times bestselling author and international speaker. He's written or co-written more than 135 published books, including the bestsellers 90 Minutes in Heaven (with Don Piper) and

Gifted Hands

(with Dr. Ben Carson). Talking about Cec Murphey comes easily for the Gotta Tell Somebody Gal because he gives me lots to talk about.
My background includes a broad variety of positions, from being a journeyman machinist and spec writer to owning a Christian bookstore and medical transcribing for a group of neurosurgeons. I can talk lathes and mills with you, or Bibles and books, or I can diagnose your need for brain surgery--the full spectrum!
Would you like to know more?