Endorsements
"When you put a lot of ladies from many different denominations in a room with Twila, you'll get these words (and more) to describe her: challenging, contagious, energetic, enjoyable, fun, easy to listen to, refreshing, so real, engaging, upbeat and entertaining, inspirational, vibrant, the best! The ladies enjoyed Twila's fresh perspective and needed to hear what she talked about. We all laughed so hard and still received God's recovery and healing as she spoke. 
Twila has a beautiful spirit, a great attitude, a deep faith, and her eyes are on God. 
As the Gotta Tell Somebody Gal, she shares God's love, grace, and mercy with all she meets. We would certainly recommend her as a speaker for your group." 
Karla Wells, on behalf of the All Denominations Christian Women's Retreat team in Sugarcreek, Ohio
"Walking into a room where Twila Belk is speaking is like walking into a room where creative energy and fresh ideas are flowing. As a presenter, she is dynamic, energetic, and enthusiastic. Her presentations and her books are filled with excellent content and her goal is to equip listeners and readers to follow biblical truth that transforms lives. Twila speaks at women's retreats and conferences, but she is also an outstanding choice for writers' workshops. She has the heart of a mentor and loves to interact with participants on and off the platform. Twila has my highest recommendation." 
Carol Kent: Speaker and Author of 
Unquenchable: Grow a Wildfire Faith that Will Endure Anything
(Zondervan); Founder and Director of Speak Up Conferences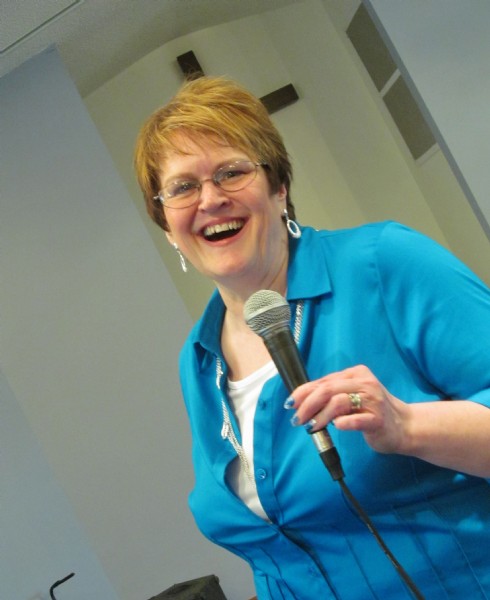 "Twila was a delight to the more than 400 ladies who attended our retreat! She has a remarkable way of communicating how to deal with heartache and troubles without overburdening the audience. Her delivery is fun, heartfelt, and down to earth, leaving you with the realization that if she can handle life's challenges by trusting God, so can you. She's your gal if you're looking for rock-solid, straight-from-the-Bible truth, with a humorous, laugh-out-loud twist." 
Doreen Piekarczyk: 
Event Facilitator, Community Christian Church, Roselawn, Indiana
"I want you to be blessed by having Twila Belk come and share with your group. Twila uses humor and stories to open people up to the truths of Scripture. She will encourage yet challenge you in new and fresh ways with her insights and life-changing messages. Be prepared to laugh and even cry as the "Gotta Tell Somebody Gal" comes and speaks from her heart with passion. As Twila's pastor and friend, I can say from experience that you will sense her heart for others and feel that she is your friend by the way she shares in her presentations. Her passion for the Lord and His Word is evident every time she speaks. I highly recommend Twila for your group because you will be blessed and you will be touched in your soul by her message." Pastor Ed Hedding: Pleasant View Church, Bettendorf, Iowa
"Twila Belk is a fine speaker who blends her expansive knowledge of the Bible (and writing and publishing) with her unique brand of humor to create workshops and keynotes that are fun and informative. She's a definite asset to any conference." Ann Byle: Co-founder of Breathe Christian Writers Conference, Grand Rapids, Michigan
"Chonda Pierce, author and comedian, was scheduled to do the keynote addresses for the Kentucky Christian Writers Conference and had to cancel due to an emergency family medical crisis. Twila Belk, already scheduled as a faculty workshop presenter, was asked the night before the conference began to fill in for Chonda as our keynote speaker. Twila's three keynote addresses were very timely and on target! The consensus of the conference was that 'she was awesome.'" Barbara Wells: KCWC Coordinator, Elizabethtown, Kentucky 
"Twila Belk was the guest speaker for our recent Ladies Nite Out. She is genuine, hilarious, spiritually-motivating, and relevant. She opened our hearts' gates with laughter, the deep belly laughs that paved the way for her message to spread like salve through our innermost parts. I'd highly recommend her for any event."
Kathy Carlton Willis: Pastor's Wife and Women's Ministries Coordinator, Meadowbrook Baptist Church, Rockdale, Texas
"If all be

lievers were sold out to Jesus Christ as Twila Belk is, our world would be turned upside down just as it was over 2,000 years ago when the Church was birthed and began to spread! God has Twila's whole life with nothing held back. She has a unique way of taking everyday 'stuff,' applying Scripture to it, and teaching a spiritual truth that leaves you hungry for more!"

Saundra Bengston: Women's Ministries, Calvary Baptist Church
"I find Twila to be both an energized and encouraging lady. She has the ability to uplift people to a level that is always higher, because of her extreme faith in God. She uses her intellect and humor to invite all into her world, which is always full of life-applying tools. I highly recommend her for any speaking engagement or women's meetings, etc. She is an innovative, exciting, and inspiring woman of God. I would not hesitate to have her minister with our church again."

Pastor Ray Corlew: Westside Assembly of God Church
"At our retreat, Twila shared an extensive knowledge of God's Word. She did an excellent job of not only teaching the Bible but providing avenues to apply that knowledge to our lives. Her enthusiastic personality allowed women to connect to her many stories and encouraged personal growth. Throughout our retreat, it was obvious that her relationship with Jesus Christ was at the center of her life . . . As a women's retreat committee, we highly recommend Twila as a speaker for retreats or any other speaking engagements. Her enthusiasm, joy of the Lord, Bible knowledge and encouragement for women will provide a well rounded, engaging and encouraging women's event. Her participation will be a blessing to all involved."

Women's Retreat Committee, Galena Bible Church
"Twila displayed friendliness and humor in a light-hearted nature. Her presentation was in a down-to-earth manner with a true focus on God and all that He is doing and has done in her life and a reminder of what He has done and is doing in our lives, too. We had many compliments on our retreat, and one lady told us, 'This was the best retreat and program you have ever had!' That is quite a compliment considering it was our 14th year doing our annual spring Women's Retreat."

Maribeth Penningroth: Administrative Secretary, Grace Lutheran Church
---
---
"DYNAMIC!"
"Energetic!"
"
POWERFUL!"    
"
INSPIRATIONAL
 !"    
"

ENTHUSIASTIC!"
"E
ntertaining!"    
"UPLIFTING!"

    "Exciting!"   

"Fun!"  
"ENDEARING!"
"Ebullient!"
"Effervescent!"
"Engaging!"
"Hilarious!"
---
---
Nice things people have said
"I just have to say thanks so much for coming and sharing with us this past weekend. You blessed our hearts! Our evaluations were all so positive, and I wanted to share some of the 'words' used to describe your time of sharing with us--wonderful, spiritual, awesome, 'perfect,' very vibrant, funny, energetic, challenging, and fun! What a wonderful description of you!" 
Karla Wells, Coordinator for the All Denominations Christian Women's Retreat in Sugarcreek, Ohio
"The women enjoyed you immensely! Twila, God has gifted you in such a special way! Your ability to weave biblical truths into your humorous accounts amazes me!"

Pam T., Women's Conference Mini-session Chair
"I'm so glad YOU were our guest speaker . . . I know God spoke to ME through your presentation. I've had a lot of skunks in my life recently, and I need reminders these days that God is in control! Keep preachin' the Word, dear Possum Person!"

Cheryl E., Women's Ministries
"I can't begin to tell you how the Lord has really used you this weekend. Thank you for being such an example and for allowing the Lord to work through you. Your seeking Him and obedience has been a great blessing."
Penny R., Women's Ministries and Retreat Coordinator
"You were wonderful, everything a speaker could be! Your message was presented in a delightful way. However, most important was the way you explained the plan of salvation. Thank you for a very special morning."

Jan H., Morning Connection Chair
"Everyone thought you

were delightful and inspiring. Of course the most important part of the evening was the 3 decisions that were made!"
Lisa P., After 5 Chair
"Your humor and insight were so refreshing—right up there with Liz Curtis Higgs! Keep speaking!"

Linda H., Conference Attendee
"You changed my life this weekend. I just gotta tell ya!"

Conference Attendee