To some I'm known as Twila Belk, but to others I'm known as the Gotta Tell Somebody Gal. I love to talk, especially about my Lord. Whether I'm speaking, writing, or teaching, my desire is to offer hope and encouragement for people to get their eyes fixed on Almighty God.
I'm a Christian communicator with a goal of taking important truths and making them easy to understand. I enjoy laughing and promoting laughter, but even more than that, I'm passionate about helping people discover who God is and how big God is and proving that He can be trusted. I've got lots and lots of proof of God's faithfulness and goodness, and I just gotta tell somebody!
Since June of 2007, I've worked closely with veteran author Cecil (Cec) Murphey as his executive assistant, associate, and biggest fan. Cec wrote more than 140 published books, including the multi-million sellers 90 Minutes in Heaven (with Don Piper) and Gifted Hands (with Dr. Ben Carson). What joy it is to partner with him in a profession and ministry that brings help and inspiration to countless people around the world!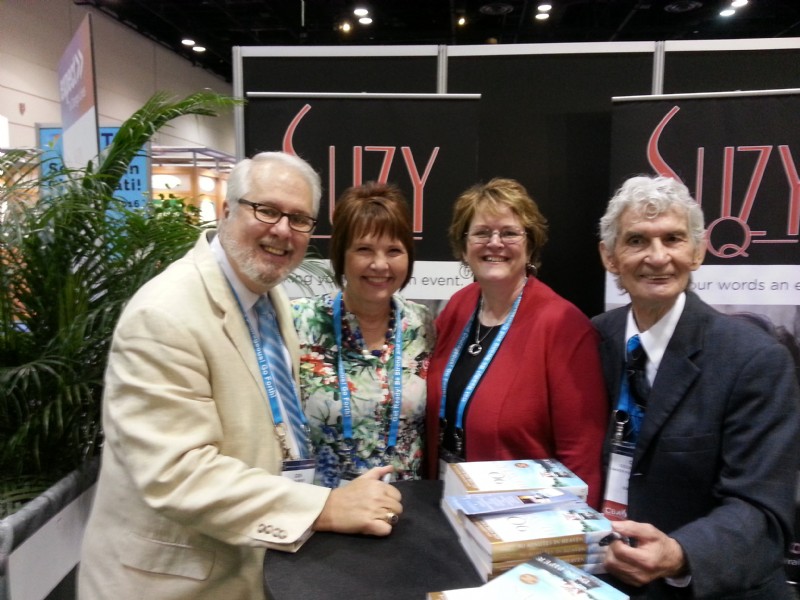 (Don and Eva Piper, me, Cec Murphey)
Cec has now retired, and I've transitioned into the role of The Writer's Champion—helping established and aspiring writers in their next steps through coaching, editing, collaborating, and other services. Because of my many years of working with Cec, along with the rest of my background, I have a vast range of industry knowledge, connections, and experience. (To summarize: I know stuff.) And if I don't have the answers, I know people who do.
I have eight published books—including the best-selling devotionals Raindrops from Heaven: Gentle Reminders of God's Power, Presence, and Purpose and The Power to Be: Be Still, Be Grateful, Be Strong, Be Courageous—and I've contributed to several others. In addition to speaking and writing, I enjoy teaching and occasionally keynoting at writers conferences across the nation. My mission is to do whatever I can to make God famous. That includes being a champion for others who have a message of hope and encouragement—one that points people to God.